City of Asheville Becomes the 195thCertified Community Wildlife Habitat in the Nation by NATIONAL WILDLIFE FEDERATION (NWF)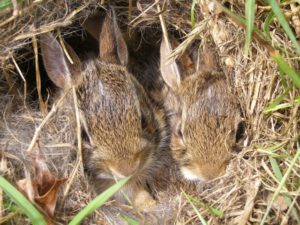 Asheville, NC – September 3, 2018 – Leading a nationwide trend in community concern for habitat loss, Asheville has been officially designated an NWF Community Wildlife Habitat by the National Wildlife Federation (NWF).  The distinction for this city is the 195thcommunity in the country and the 7thcommunity in North Carolina to receive this honor.  Asheville is the largest of the three western NC cities to receive this certification.  A Community Wildlife Habitat project creates multiple habitat areas in backyards, schoolyards, corporate properties, community gardens, parkland and other spaces.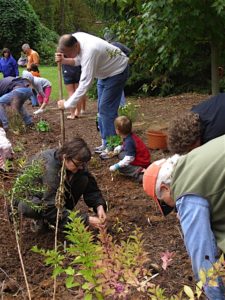 NWF commends the dedicated residents of Asheville and the Mountain WILD! team for their wildlife conservation efforts and for coming together for a common purpose – to create a community where people and wildlife can flourish.  At a time when communities are faced with problems of losing habitat to development, Asheville stands out as a model for other communities to emulate.
Mountain WILD! (MW!), the local chapter of  the NC Wildlife Federation, worked with Freshman Seminar students at Warren Wilson College in Swannanoa, businesses, community residents and schools to certify 280 homes, seven schools, and 10 common spaces for certification.  In addition, MW! special projects were accomplished.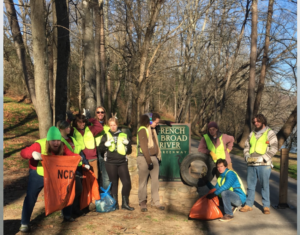 Warren Wilson students cleaned a trail and riverbanks at Hominy Creek and Carrier Park in West Asheville.  MW! members and WNC Nature Center staff created a Songbird Garden, bird blind wall and backyard wildlife habitat display at the Center.  MW! assisted two Asheville churches with F.A.I.T.H. certification from the NC Wildlife Federation.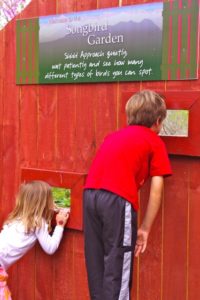 On multiple occasions, MW! members and friends worked with staff at the WNC Nature Center and at Deltec Homes to build nest boxes for NC Wildlife Resources Commission biodiversity projects with endangered Northern Flying Squirrels and Barn owls.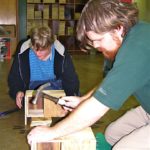 MW! joined with Wild Forests & Fauna, AB Tech, and Carolina Native Nursery to plant over 500 native species saplings on a major restoration site.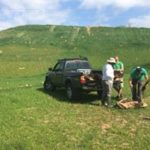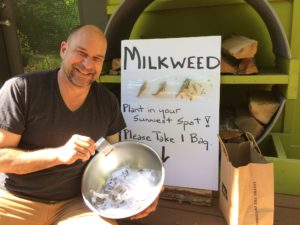 A presentation on creating wildlife-friendly habitats was held at the Kenilworth neighborhood.  Those residents were instrumental in Asheville achieving final certification points. Mountain WILD! donated common milkweed seeds to Kenilworth residents, and MW! hopes to collaborate on future neighborhood projects.
On August 28, 2018,  Gwen Wisler, Vice Mayor, read an official Proclamation at the Asheville City Council meeting.  The Proclamation recognized requirements and accomplishments for certification.  The City Council proclaimed September 2018  CERTIFIED COMMUNITY WILDLIFE HABITAT MONTH in Asheville!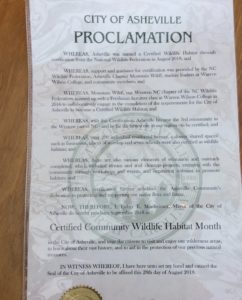 Mountain WILD! is planning a future community celebration, as well as additional activities with Asheville neighborhoods.
NWF's Certified Wildlife Habitat program has been helping people take personal action on behalf of wildlife for more than 40 years.  The program engages homeowners, businesses, schools, churches, parks and other institutions that want to make their communities wildlife-friendly.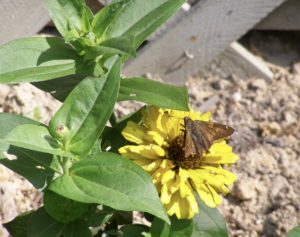 The Community Wildlife Habitat project is part of NWF's Garden for Wildlife program.  The projects benefit the entire community of plants, wildlife, and people through the creation of sustainable landscapes that require little or no pesticides, fertilizers, and excess watering.  These landscapes help keep water and air resources clean.  They are healthier for people and the environment and are less resource-dependent than conventional landscapes.  Habitat landscapes can serve to beautify our urban areas and give residents pride in their neighborhoods.
Since 1973, NWF has provided millions of people with the basic guidelines for making their landscapes more wildlife-friendly.  There are more than 200,000 certified habitats nationwide.  For more information, please go to: www.nwf.org/garden.
 Mountain WILD!'s mission is to preserve and increase wildlife and wildlife habitat of the western North Carolina mountains through stewardship, education, conservation and restoration of natural resources. MW! is involved in helping wildlife by volunteering, educating our youth and aligning our energy with others working to make a difference in our local community.
Learn more at NWF.org/Communityand get more updates from the National Wildlife Federation at NWF.org/News.
Learn more about Mountain WILD! at:  www.mtnwild.org
Learn more about NC Wildlife Federation (The Butterfly Highway, F.A.I.T.H. and W.A.I.T. certification, Scholarships & Grants) at: www.ncwf.org