Supporting Healthy, Green, Wildlife-Friendly Communities
Who's involved?
The National Wildlife Federation is a national organization that works to unite all Americans to ensure wildlife thrive in a rapidly changing world and to protect natural resources for future generations.
The North Carolina Wildlife Federation works to protect, conserve and restore North Carolina wildlife and wildlife habitats.
Mountain WILD! is the Asheville-area chapter of the NC Wildlife Federation.   Volunteers work to preserve and increase wildlife and wildlife habitat of the western North Carolina mountains through stewardship, education, conservation and restoration of natural resources.
The City of Asheville, NC lies at over 2,000 feet elevation in the mountains of Western North Carolina.  The city is home to over 89,000 residences, and the region is known as the salamander capital of the world.  It is uniquely fit to serve important and keystone wildlife species.
How to Certify?
To achieve certification, extensive activities in Education, Outreach and Administration are required, as well as points earned for certifying habitats for city residences, public spaces, businesses and other areas. Learn more about Community Wildlife Habitat Certifications HERE.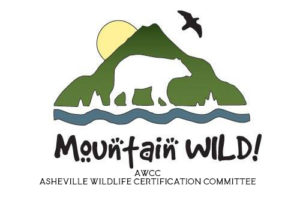 Asheville Wildlife Certification Committee (AWCC)
Completing the Community Certification was a big undertaking from a volunteer Board.  Therefore, we enlisted the help of incredible students in their Freshman Seminar class at Warren Wilson College.  This was an opportunity for us to get new blood involved and for the students to gain experience in completing a community project.  We could NOT have competed the certification without these students and the community of Asheville!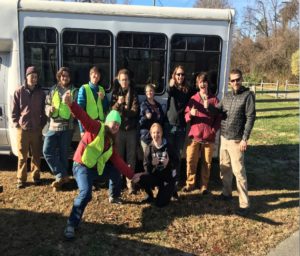 City of Asheville Description
At over 2,000 ft elevation and with a population of 89,000, Asheville teems with wildlife and people who play in the mountains, the French Broad and Swannanoa Rivers, and study at UNC-Asheville and Warren Wilson College.  Asheville not only boasts vibrant art and outdoor cultures, but it is also a wildlife mecca, home to the Biltmore Estate (the largest private residence in the US), the NC Arboretum, the WNC Nature Center, and the Pisgah and Nantahala National Forests which contain over one million acres of public land.  Western North Carolina is the salamander capital of the world.  The mountains offer plentiful habitat for bears, foxes, raccoons and hundreds of species of flora and fauna.  We are a loving community of truly "wild life."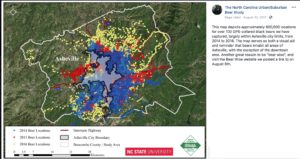 Asheville Areas of Certification
The National Wildlife Federation Community Wildlife Habitat Certification requires cities to attain points based on certifications of private residences, public spaces, businesses, parks and more.  The certification process provides an opportunity to educate one's self and others about wildlife needs required for survival.
With 89,000 people living in Asheville, we were required to post a minimum of 300 certification points (1 point for a home, 3 for a public shared space, 5 for a school or nature center).  As of summer 2018, we had over 280 homes, 7 schools, 2 churches, and 10 common spaces certified! What a wildlife-friendly town, full of amazing people!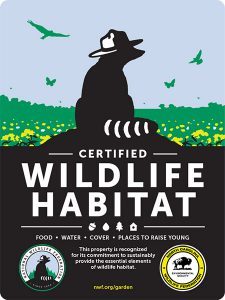 Mountain WILD! Information Brochure
Mountain WILD! Chapter of NC Wildlife Federation – Facebook Page
We currently have over 970 "likes" and 953 people who follow our postings.  We share information about environmental happenings in the Asheville area, our parent organization – NCWF, NWF, non-profit wildlife organizations, and wildlife who call the western North Carolina mountains "home."
Mountain WILD! Community Workshops – Kenilworth Neighborhood
Working with many community members in Asheville has demonstrated that our city is a vibrant, exciting, treasure trove of people who truly care about the people, flora and fauna that share our world.
The Kenilworth neighborhood put us over the edge of required certified habitat residences by certifying many of their properties!  They dispersed milkweed seeds, which Mountain WILD! donated, to help create a more bountiful garden habitat for pollinators – especially Monarch butterflies.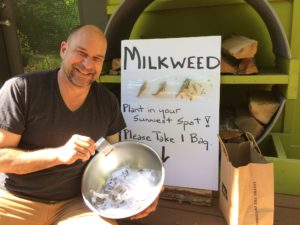 Stream and Trail Clean-Up Days
Our "Asheville Wildlife Certification Committee" and Warren Wilson College Freshman Seminar students took on a clean-up project on the trail and riverbanks at Hominy Creek and Carrier Park in West Asheville. Despite the cold and getting dirty and messy, it was a fun time for all!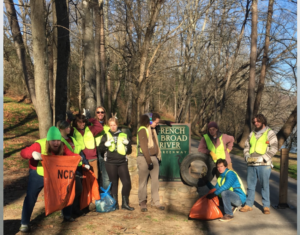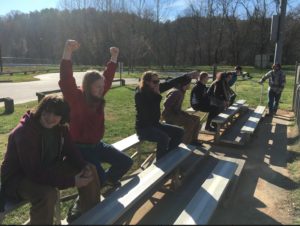 Songbird Garden/Bird Blind Wall at WNC Nature Center
Mountain WILD! teamed up with the NC Wildlife Federation and the WNC Nature Center to re-build the Songbird Garden exhibit.  We created a bird blind wall where children and adult visitors can watch songbirds at provided feeders.  Displays for improving gardens for wildlife are provided, and visitors are invited to become birdwatchers extraordinnaire.  Our members also worked in the Hummingbird Garden, removing weeds and trimming plants.
Mountain WILD! joined forces with the awesome staff and friends of Deltec Homes on multiple occasions to build nesting boxes for endangered Northern Flying Squirrels and Barn Owls.  We assisted the NC Wildlife Resources Commission by building and donating habitat boxes that are used in species research in the field.  Older boxes that have been weathered or damaged are replaced with our new boxes to provide safe, warm homes to raise their young. See more photos here.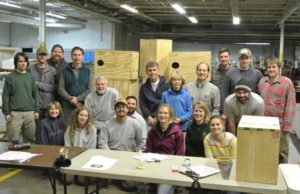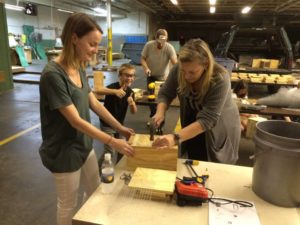 In addition, Mountain WILD! coordinated several nest box building events at the WNC Nature Center.  MW! members, friends and Nature Center staff built boxes for Northern Flying Squirrels and owls, which were donated to the NC Wildlife Resources  Commission.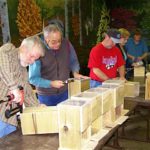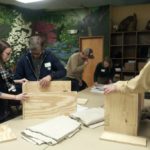 F.A.I.T.H. Church Certification – Mountain WILD! and NC Wildlife Federation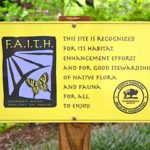 Mountain WILD! members worked with two Asheville churches — Saint Luke's Episcopal Church and Unitarian Universalist Congregation of Asheville — to complete FAITH (Fellowship Actions Impacting The Habitat) NCWF certification.
These churches completed habitat assessments of their properties and developed strategic, long-term plans for ongoing stewardship of wildlife and wild places in urban, suburban and rural settings.  Wildlife-friendly gardens were planted with many native plants, invasive species were removed, bluebird boxes were installed, and the use of fertilizers was reduced or eliminated.
Big Tree Restoration with Wild Forests & Fauna, Mountain WILD!, AB Tech
With assistance from Carolina Native Nursery, Mountain WILD! Board members joined with Wild Forests & Fauna and AB Tech students to plant over 500 native species saplings on a major restoration site.  This site was cleared and sodded after Mission Hospital filled in the hill with in-fill from the new hospital building.  Dozens of volunteers braved the heat and sweat to restore this area above the AB Tech hiking trail.