*CERTIFY ASHEVILLE!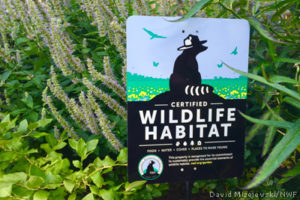 We are incredibly close to completing requirements for our beautiful City of Asheville to become a Certified Wildlife Habitat Community! We need YOUR help to cross the finish line.
How to help? Certify your residence, business, school, church or public space! Follow the Link HERE for a step-by-step guide to certifying your wildlife habitat. You can contact us at mtnwild@gmail.com or tara@ncwf.org.
———————————————————

Mountain WILD! is the Western North Carolina chapter of the NC Wildlife Federation.  We are a volunteer group that wants to preserve and increase wildlife and wildlife habitat of the western North Carolina mountains through stewardship, education, conservation and restoration of natural resources.
We are involved in helping wildlife by volunteering, educating our youth and aligning our energy with others working to make a difference in our local community.
Mountain Wild is currently working on certifying the City of Asheville as a Certified Wildlife Friendly Community. For more information on how to support this cause, click here. 
What we do: Mountain WILD! partners with the North Carolina Wildlife Commission with both the Game Division and Wildlife Diversity Division. Volunteers work with projects such as peregrine falcon monitoring, northern flying squirrel monitoring, building bat habitat, surveying for box turtles, salamanders, snakes and wild turkeys. Opportunities to learn through working with biologists and other professionals are endless.
We also work closely with schools and faith-based wildlife garden projects. There are volunteer opportunities in unique ecosystems such as Mount Mitchell. If you want to help wildlife and wildlife habitat, we can direct you to the right opportunity.