It's Almost Fluffle Time in Western North Carolina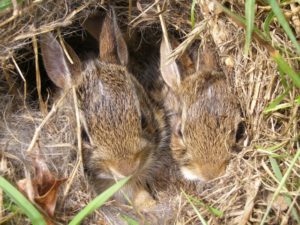 We're looking forward to winter being over and the arrival of spring in western North Carolina!
With spring, Eastern Cottontail rabbits will begin reproducing.  They'll continue nesting into September.   The gestation period is 27 days.  Females give birth to up to 12 babies, which are called "kits" – short for "kitten."   They will remain in the nest until they are four to five weeks old.  Oh, and a group of bunnies is called a "fluffle"!
When mowing your yard or meadow, be watchful for rabbit nests.  They are NOT easy to find!  The female, called a "doe," creates a shallow hole in the ground, which she covers with grass and pieces of her own fur.
The mother rabbit only visits the nest twice a day to feed her young.  The rest of the time, she is off eating.  So if you come across a nest with no presence of mama, do not be concerned!
If you disturb a nest or your dog finds one, place the babies back in the nest.  Replace the nesting material over the kits.  Then make a crosshatch pattern of sticks or string over the nest.  When mama returns, she will move the sticks or string in order to feed her young.
We don't know that we'll see any rabbits hopping in our meadow with a basket!
The 22nd Annual Great Backyard Bird Count (GBBC)  
February 15-18, 2019
Count for as little as 15 minutes in your backyard, community area, schoolyard — anywhere where you can observe birds!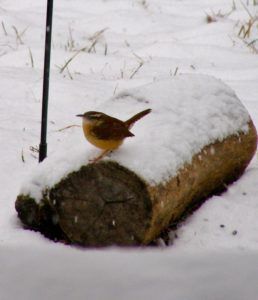 As a Citizen Scientist, you will  help researchers at the Cornell Lab of Ornithology and the National Audubon Society learn more about how birds are doing and how to protect them and our environment.
Participants are asked to count birds for as long as you wish on one or more days of the four-day event.  Keep a list of your sightings.  Then report them online at:
bird count.org.
Anyone can take part — beginning bird watchers to experts!
FOR MORE INFORMATION: www.audubon.org/conservation/about-great-backyard-bird-count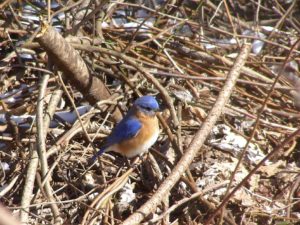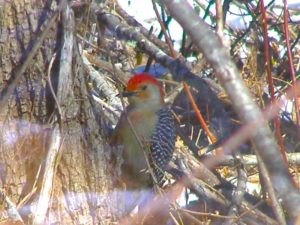 Merry Christmas Wishes
All of us at Mountain WILD! wish you a joyful Christmas with family and friends!
We hope that singing birds greet you throughout this special day!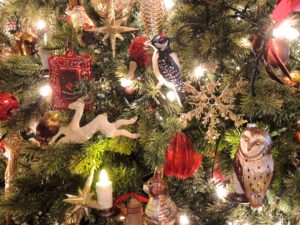 (Photo taken at the Biltmore Estate, Asheville, NC – December 2017)
Fall Planting Time in Western North Carolina
This is a great time to design a garden with native plants to attract wildlife to your yard.  Many native plant nurseries are having sales.  Check with your local nursery to see which plants will work best in your yard.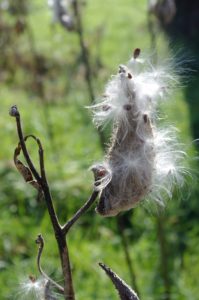 You can plant seeds, too, between now and early January.  Watch for freeze warnings!  Plants, such as Common milkweed, need cold temperatures to help with germination.
Celebrate with Mountain WILD! at The Salvage Station on Thursday, October 4, 2018 ~ 5:00 PM – 10:00 PM.
We will celebrate the City of Asheville's Community Wildlife Habitat Certification by the National Wildlife Federation.  There are only seven NC cities and 195 cities in the USA to have earned this certification!
Mountain WILD! will hand out native wildflower seeds from The Butterfly Highway (NC Wildlife Federation) WHILE SUPPLIES LAST!
Doors open at 5:00 pm; opening music acts begin at 6:00 pm; GREENSKY BLUEGRASS concert is at 7:00 pm.
Tickets required!  https://www.salvagestation.com/events2/2018/10/4/greensky-bluegrass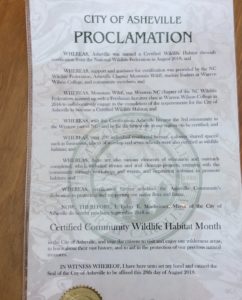 Mountain WILD! worked with Freshman Seminar students at Warren Wilson College in Swannanoa, AB Tech students, businesses, community residents, schools and churches to certify 280 homes, seven schools, businesses, two churches, and 10 common spaces.
For more information, please see our BLOG post of September 3, 2018.
SEPTEMBER 2018 ~ CITY OF ASHEVILLE ~ CERTIFIED COMMUNITY WILDLIFE HABITAT MONTH!
On August 28, 2018, Esther E. Manheimer, Mayor of the City of Asheville, issued a City of Asheville Proclamation.  She declared September 2018 as "Certified Community Wildlife Habitat Month."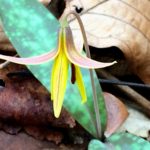 The proclamation recognizes Asheville as a Certified Wildlife Habitat by the National Wildlife Federation (NWF) in August 2018.  "Asheville became the 3rd community in the Western part of NC – and by far the largest city in our region – to be certified."  (There are ONLY 195 cities in the United States with this certification!  Asheville is the 7th community in NC to earn NWF certification.)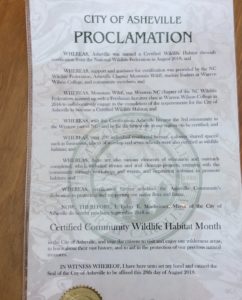 The proclamation continues:
"WHEREAS, certification further solidifies the Asheville Community's dedication to protecting and supporting our native flora and fauna.
NOW, THEREFORE, I, Esther E. Manheimer, Mayor of the City of Asheville, do hereby proclaim September 2018 as CERTIFIED COMMUNITY WILDLIFE HABITAT MONTH."
To certify your property during September (or any other month!), please visit:
https://www.nwf.org/Garden-for-Wildlife/Certify OR
http://ncwf.org/programs/certified-wildlife-habitat/
*CERTIFY ASHEVILLE!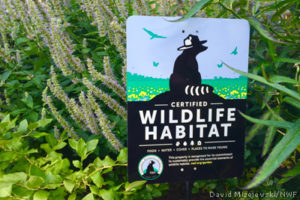 We are incredibly close to completing requirements for our beautiful City of Asheville to become a Certified Wildlife Habitat Community! We need YOUR help to cross the finish line.
How to help? Certify your residence, business, school, church or public space! Follow the Link HERE for a step-by-step guide to certifying your wildlife habitat. You can contact us at mtnwild@gmail.com or tara@ncwf.org.
———————————————————

Mountain WILD! is the Western North Carolina chapter of the NC Wildlife Federation.  We are a volunteer group that wants to preserve and increase wildlife and wildlife habitat of the western North Carolina mountains through stewardship, education, conservation and restoration of natural resources.
We are involved in helping wildlife by volunteering, educating our youth and aligning our energy with others working to make a difference in our local community.
Mountain Wild is currently working on certifying the City of Asheville as a Certified Wildlife Friendly Community. For more information on how to support this cause, click here. 
What we do: Mountain WILD! partners with the North Carolina Wildlife Commission with both the Game Division and Wildlife Diversity Division. Volunteers work with projects such as peregrine falcon monitoring, northern flying squirrel monitoring, building bat habitat, surveying for box turtles, salamanders, snakes and wild turkeys. Opportunities to learn through working with biologists and other professionals are endless.
We also work closely with schools and faith-based wildlife garden projects. There are volunteer opportunities in unique ecosystems such as Mount Mitchell. If you want to help wildlife and wildlife habitat, we can direct you to the right opportunity.